About Kathryn Starke
Author Visits/Appearances
(Call for pricing)
Children's author, Kathryn Starke, will introduce the story of Amy's Travels and/or read Amy's Travels. She is available to sell and sign personalized copies of Amy's Travels at every event.
Speaking Engagements
(Call for pricing)
Kathryn is available for speaking engagements that promote literacy at home, school, and in your community. She speaks on a variety of topics related to her role in education as well as a children's author. Some specific topics are listed below.
literacy (early childhood, elementary, secondary level)
urban education
elementary education
global awareness
multicultural literature
reading instruction at school and at home
writing for children
parent and family literacy programs
From colleges to corporations and everything in between, Kathryn addresses the importance of providing every child with the motivation, inspiration, and instruction to be a successful reader. She uses her expertise in education to match the mission of any company, foundation, or organization to address the importance of creating a community that promotes and supports literacy.
Private Tutoring/Parent Coaching
Kathryn is available for private reading/writing tutoring for elementary school children. Kathryn will evaluate your child to determine his or her instructional level and provide lessons that will greatly increase your child's reading level. In addition to the tutoring, Kathryn believes in coaching parents to give them the best strategies to support their child's reading growth and development. Call for pricing.
School Presentations for Students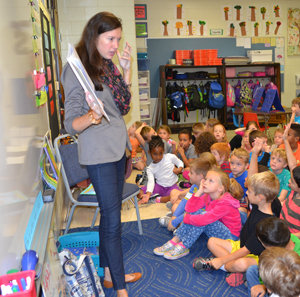 Skype an Author
Amy's Travels
(2 thirty minute programs, Call for pricing)
Author Kathryn Starke shares Amy's Travels with students using the descriptive text and colorful illustrations of this multicultural children's book. Amy's Travels teaches the geography, culture and diversity of our world through the eyes of a young girl. Since this book is based on the true story of Kathryn's friend Amy, she uses the presentation to explain how true stories make the best books and how our favorite book characters represent real people. Since the book teaches the seven continents, Kathryn uses an interactive approach by having students mark Amy's travels on a map of our world. A book guide is available for teachers. Presales and personalized copies of Amy's Travels are available for students and teachers.
Kathryn Starke visited Millwood School and presented her first book, Amy's Travels, to two groups of students: kindergarten through second grade, and third grade through fifth grade. She was able to peak the student's interest by crossing the curriculum with hands-on reading and geography. Millwood School's teachers and students appreciate her abilities, enthusiasm, and time with us. Each of us was enriched by this experience.
- Diane Murrell, Language Arts Head, Millwood School, Midlothian, Virginia
Kathryn Starke is a fabulous storyteller. It was so easy to listen to her and feel her excitement about the character and the places she went. She packed the house with over 60 visitors. Kathryn has been one of my favorite visiting authors, and I would gladly invite her to the museum again and again.
- Wendy Murphy, Resources Center Coordinator, Stepping Stones Museum for Children
The presentation was perfect. The teachers could tell Kathryn was in education because she interacted so well with the students, tied everything in with the curriculum, and it was the perfect length. It was "just right."
- Tammy Byram, Librarian, Margaret Brent Elementary School, Stafford, Virginia
Author For a Day
(Call for pricing)
Kathryn Starke will spend the day at your school sharing a variety of activities including any or all of the following:
Amy's Travels assembly
Book signings
Classroom writing workshops